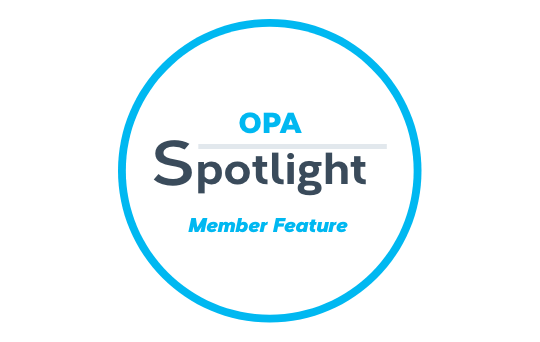 Registered Pharmacy Technician (RPhT) at Zehr's Pharmacy Owen Sound
How long have you been an OPA member and why did you choose to join?
I have been a member of OPA since 2014. I was invited to "Tell my story as a technician" by Pharmacist, Rachelle Rocha, who was a presenter and an advocate for technicians, at the OPA conference in 2014.  After that presentation, I decided to join OPA to see what it was all about.
What led you to pursue a career in pharmacy?
I was fortunate enough to fall into pharmacy almost 40 years ago after being told by a friend about an opportunity to work in pharmacy, I thought I would give it a try, and I've never looked back.

What's the biggest misconception people have about the role of a pharmacy technician?
I am not sure patients know or care about the difference between an assistant or a technician. When they look in the pharmacy, they just see a bunch of people doing something that hopefully has something to do with their prescription and cannot quite figure out why it is taking so long to get theirs, when there are many people working back there! I think the biggest misconception is within the pharmacy staff itself and what a technician can and can't do. The technician has fit really well into doing the technical check on blister packs, and usually lands there, however, there is so much they can do.   
While working as a pharmacy technician do you have a moment that stands out, or something that you are particularly proud of?
I am immensely proud that as a pharmacy technician I can help in this global pandemic by being able to administer the COVID-19 vaccine. I absolutely love being able to give a vaccine that gives people hope and provides a step back into normalcy. It is so rewarding to be able to calm the fears of those who are anxious about getting a needle, help them lower their stress level, calm them down, and have them thank you once they get their vaccine.   
What's the most exciting part about being a pharmacy technician?
The most exciting part of being a pharmacy technician is to be able to change, evolve, and expand with the ever-changing world of pharmacy, and there is always something new to learn. 
How do you spend your free time outside of work?
Quite a bit of my free time is taken up with pharmacy technician related endeavors. I work part–time as a Pharmacy Technician Faculty Advisor for Lambton College, I am an elected board member on the Ontario College of Pharmacists and also am involved with Technician Conference Calls at Loblaw. When I'm not doing that, I could be involved with singing and playing the keyboard at various functions e.g., church, weddings, etc. I love to move people by my voice whether it be singing or talking about pharmacy technicians.
If you would like to be featured or have a colleague featured in future editions, please contact [email protected].