Nayan Patel, R.Ph., CDE, ISTM
Pharmacy Owner and Certified Diabetes Educator
Nayan Patel is a pharmacy owner and Certified Diabetes Educator (CDE) who splits his time between three different pharmacy locations. A University of Toronto graduate, Patel has dedicated part of his practice to improving the lives of patients with diabetes for over ten years. Treating diabetes often involves an interdisciplinary collaborative team approach, and after local doctors contacted him and witnessing the strong demand for diabetes education, Patel began his path of working more closely with patients with diabetes.
"It all started with a few of the doctors in my area asking me if I would provide some additional education to patients with diabetes, and the doctors did not necessarily have time to review diet," he continues. "As I started coaching these patients, I noticed that there were other things I could do to help, that they had either forgotten about or they had never been told about how to manage their diabetes properly, I realized that I needed a little bit more knowledge and that's when I decided to become a Certified Diabetes Educator, this gave me the confidence and the knowledge base to help my patients."
Diabetes requires patients to make daily lifestyle decisions regarding diet, activity levels, and medications to manage the disease effectively. Research has shown that a team-based approach is one of the most effective ways to manage diabetes and support patients in behaviour changes, especially for individuals with type 2 diabetes. 1 As part of a diabetes care team, pharmacy professionals help to provide the necessary self-management, medication knowledge and sometimes help patients cope with the emotional burdens of the disease. As a pharmacist, Patel can easily access patients with diabetes during his practice and he recognizes that the disease requires not only continuous management but also education. Additionally, as a CDE he is trained in asking probing interview techniques that are key for encouraging effective self-management of the disease.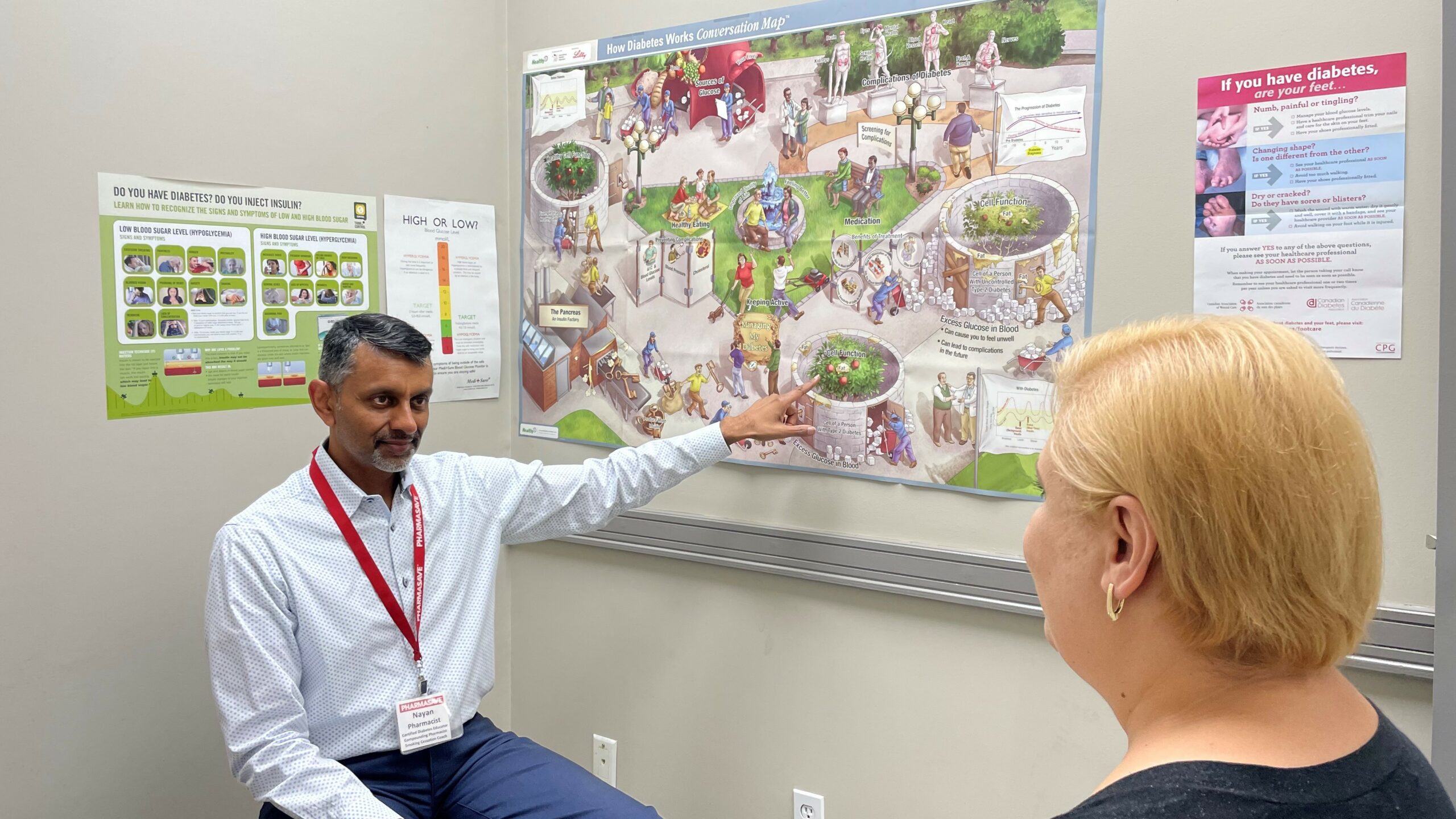 Nayan Patel, in his pharmacy providing educational training.
The positive impact of pharmacists' involvement with diabetes care was studied in a controlled trial at a university-affiliated primary care clinic. Subjects that received pharmacist intervention were found to have a statistically significant reduction in A1C levels (2.2% vs. 0.9%) compared to control subjects after 12-24 months of follow-up.2  Pharmacists' accessibility to patients, coupled with an understanding of the healthcare system, training, and knowledge of medication therapies provides pharmacists with a unique perspective on treating diabetes. 
"I think we stand out because we actually communicate really well with the physicians in the area, they send us patients because physicians are very busy, they don't have the time to talk to their patients about diabetes to the extent that they can and should," he continues. "We can also be really good resources for the doctors for medications and with the new guidelines changing we're able to suggest changing treatments, and I think once you build a confidence level with the physicians in the area, I think that they'll refer more patients to you." 
Nayan Patel in his pharmacy.
The discovery of insulin 100 years ago by Frederick Banting and his team from the University of Toronto sparked major transformations in diabetes care and treatments. Naturally, health care providers and their methods for treating diabetes have evolved alongside insulin developments. Pharmacy professionals are likely to be a major part of the future of healthcare designed to provide comprehensive strategies for the treatment and prevention of chronic diseases. Speaking on how much pharmacy and diabetes treatments have progressed Patel said, "It's changed immensely, I remember when I first graduated there weren't many diabetes medications out there, it was probably about three different treatments, now we have a lot more treatments, the guidelines are different, and we're more involved with coaching patients on their diet and looking out for complications," he continues. "Diabetes MedsChecks has really helped, I think that now we're actually getting access to lab values, so the government has recognized that we should have access to those things." 
About the 100 Years of Insulin 
This year marks 100 years since the Canadian discovery of insulin. OPA is commemorating this life-saving momentous medical achievement in collaboration with BD and Ascensia Diabetes Care. The 100 Years of Insulin campaign provides a series of educational resources, tools, and online programs. It also strives to highlight the importance of how pharmacy professionals transform the lives of those living with diabetes through medication therapies, adherence, and counselling.  
References:  
1 McGill, Margaret, et al. "The Interdisciplinary Team in Type 2 Diabetes Management: Challenges and Best Practice Solutions from Real-World Scenarios." Journal of Clinical & Translational Endocrinology, Elsevier, 9 Dec. 2016, www.ncbi.nlm.nih.gov/pmc/articles/PMC5651292/.  
2  Odegard, Peggy Soule. "Ask the Pharmacist to Join Your Diabetes Care Team." Diabetes Spectrum, American Diabetes Association, 21 Sept. 2009, spectrum.diabetesjournals.org/content/22/4/196. 
All photos were provided courtesy of Nayan Patel.